Healthcare Careers
The Healthcare industry is growing all around us!
Healthcare Careers are some of the most rapidly growing careers in our country right now. Some people assume that a job in healthcare means being a nurse or a doctor. While these are both great options, there are also a wide variety of support positions that also require specific skills, education, and experience.

---
Which Career In Healthcare Is The Right Choice For You?
We have gathered questions and information about each of these Careers in Healthcare to help you decide if it's a good fit for you.
Are you a compassionate person with a strong stomach and the desire for flexibility and a good salary? You may want to consider Nursing.

Are you a people person with good administrative skills and a desire to work hands-on with patients? You may want to consider a career in Medical Assisting.

Are you looking for an administrative position that will still allow you to be a part of the growing healthcare industry? You may want to consider Medical Billing and Coding.

Are you interested in evaluating and treating individuals for breathing problems? You may want to consider Respiratory Therapist.

Are you looking for a career with great job growth along with the opportunity to assist others? You may want to consider a career as an Ultrasound Technician.

Are you comfortable advising people on a required lifestyle and exercises? You may want to consider a career as a Nutritionist.

Would you enjoy designing a therapy plan for a person and tracking it's progress over weekly, monthly, or yearly period? If so, you may want to consider a Physical Therapy Career.

Do you have a passion and love for animals? You may want to consider a career as a Veterinarian.

Do you want to help others have a brilliant smile just like you? If so, you may want to consider becoming a Dental Hygienist.

Are you passionate about helping your community and saving lives? Consider a career as a Emergency Medical Technician or Paramedic.
---
What Else Should You Know About Healthcare Careers?
Today, there are many opportunities in the healthcare profession. Healthcare is changing more rapidly than almost any other field. It is changing in terms of how and where care is delivered, who is providing the services, and how that care is financed. In their roles, healthcare professionals have an opportunity to make a significant contribution to improving the health of the communities their organizations serve.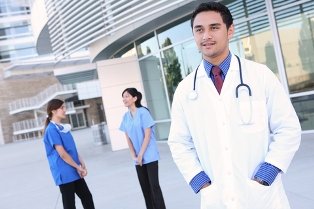 According to the U.S. Bureau of Labor Statistics, the healthcare industry will be experiencing amazing growth in the next several years. They predict that healthcare will generate 3 million jobs between 2006 and 2016, more than any other industry.
Many of the fastest growing occupations are going to healthcare related and job opportunities should be good in all healthcare settings. There are several reasons for this growth including our aging population, longer life-expectancy, and advances in medical technology. Now is the time to begin a healthcare job search!
Healthcare careers require talented people to manage the changes taking place within this industry. People looking to begin healthcare careers should be prepared to be flexible as many of the available positions may be part-time or require shift work due to the round-the-clock nature of healthcare. One exciting thing about the healthcare field is the variety of careers that are available. Click here to learn more about the People and Places in Healthcare.

---
What About The Money?
Salary is an important consideration when choosing a career. Salaries for Healthcare Careers may depend on many factors. Salaries in this field May vary depending on the state or city where you work, the type of facility that you work in, and your level of education. Click here to compare the salaries for Healthcare careers to the salaries of other fields.


---
Nursing Careers

Nurses are the backbone of the healthcare industry. There is a growing need for caring, skilled professionals in this field. Click here to learn more about a career in Nursing.

Medical Assistant Careers

Medical Assistants provide necessary support for physicians and other healthcare professionals. These positions are an excellent opportunity to interact with patients and perform administrative tasks. Click here to learn more about Medical Assistant Careers.

Medical Billing and Coding Careers

A career in Medical Billing and Coding is the perfect option for someone seeing to use their administrative skills to break into the growing healthcare field. Click here to learn more about Medical Billing and Coding.

Respiratory Therapist Careers

Respiratory Therapy is a rapidly growing field within the healthcare industry. This career allows you to care for individuals with breathing problems. Click here to learn more about Respiratory Therapy Careers.

Ultrasound Technician Careers

Ultrasound Technicians are in demand in the healthcare industry right now. This is a perfect option for someone who is comfortable with medical terminology and wants to assist patients. Click here to learn more about Ultrasound Technician Careers.

Nutritionist Careers

Nutritionist Careers are very rewarding for those who would like to assist others with a lifestyle change. This career allows you to create plans for those who want to become healthier. Click here to learn more about Nutritionist Careers.

Physical Therapy Careers

Physical Therapy is a great career choice for those who want to ease the pain of others. This career allows you to assist those individuals and develop a plan to track their recovery. Click here to find out more about Physical Therapy Careers.

Veterinary Careers

Veterinary Careers allows people to help and care for animals. This career gives those who are passionate about animals the ability to make a difference. Click here to find out more about Veterinary Careers.

Dental Hygienist Careers

Dental Hygienists play an important role in helping us maintain the health of our teeth and gums. This career is excellent for someone who is concerned about dental health and loves to work with people. Click here to find out more about Dental Hygienist Careers.

Emergency Medical Technician and Paramedic Careers

Emergency Medical Technicians and Paramedics are some of the first responders in emergency situations. This career would allow you to saves lives and serve your community. Click here to find out more about Emergency Medical Technicians and Paramedic Careers.


---
Want To Learn More About The People And Places in Healthcare?
Healthcare careers are made up of a wide variety of positions and each of these careers takes place in a different healthcare setting. Click on the link below to learn more. . .

The People And Places In Healthcare Careers
Return from Healthcare Careers to the Career Search and More Home Page
---