Career Degree Education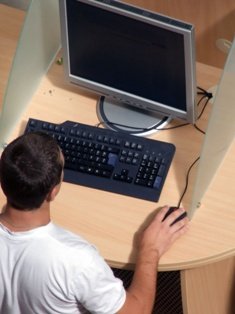 Your career degree education is extremely important when trying to find your true passion in life. Invariably when we first meet someone new, at some point we are asked "What do you do?" Are you happy with what you have to say in response? Does telling people what you do for a living invoke a twinge of embarrassment or regret? If the answer to that is yes, then you wouldn't be alone.
The 2011 Employee Satisfaction and Engagement report by The Society for Human Resource and Management (SHRM) found that only 83% of U.S. employees described themselves as satisfied with their current job. That's actually a pretty high figure, but what if you are one of the 42% of that figure who were only somewhat satisfied. Even worse, what if you were among the 17% who were not satisfied at all? A working life can span 40 years or more. That's a long time to spend being not at all or only somewhat satisfied.



---
How To Change Careers
Switching Careers
Even if you have been in your current job for many years, it's never too late to find your true calling. The renowned Italian tenor, Andrea Bocelli was a lawyer until the age of 34, when he caught his first singing break. Sylvester Stallone was a deli counter assistant before writing the screenplay to Rocky, winning an Academy Award for Best Picture in the process. Heck, "Colonel" Sanders didn't start cooking his world-famous chicken until the age of 40.
What Do You Want to Do?
It can be very nerve-racking when questioning "How to Change Careers" or researching your career degree education. It's also all very well saying you are unsatisfied with your career, but knowing what you currently do isn't right for you and knowing what you actually want to do are two different things entirely. And therein lies the problem, many people just don't know what they want from their careers. While there's definitely something in the saying 'you don't know what you're looking for until you find it, ' that's a phrase best saved for matters of the heart. When it comes to your career, you don't have to just hang around in the hope that your ideal job will somehow materialize without any effort on your part. Researching career options and your
career degree education
will help point you in the right direction. This will help ease that anxious feeling as you progress forward.
Psychometric Testing
Employers spend huge amounts of amount and dedicate significant resources to finding the right person for the job. The costs of getting it wrong can be monumental. Many employers will use a method known as psychometric testing to help them find the perfect candidate. Psychometric testing takes the form of formal, structured questions that are designed by psychologists to identify exactly what makes a person tick. This kind of testing is not the sole remit of employers. Savvy individuals can make use of them to help them to identify the type of work for which they are best suited. The Internet offers an array of free psychometric tests for this purpose. As with everything on the web, some are going to be better than others, but if you do a few you should start to see some common indicators coming to the surface. The results may be startling and suggest a career you might not have even thought of before. That's exactly what psychometric testing is all about - identifying hidden qualities and strengths. Give it a try.
After reading these steps we hope that your are not too overwhelmed and are willing to approach these potential changes in your life with excitement. It may all start with your career degree education and if that is the case then I highly recommend that you visit DegreeJungle.com. Degree Jungle makes it easy for you to research and find the top online degrees. You can find out the rankings of the top schools that provide online degrees as will as search online degrees by a specific category.
Not all changes in ones career will revolve around career degree education and pursuing specific credentials. However, in today's time your career degree education is too important to fall by the waist-side. Please take the proper time to research your desired field and do your best to achieve those qualifications.

Claire Matthews is a careers adviser in Boston and frequent contributor to DegreeJungle.com. A graduate from the London School of Economics, she regularly heads off to the great outdoors to indulge in her passion for drawing and photography.


---
If you would like to go back to the Home Page, then click here . . .
---