Career Assessment & Career Aptitude Tests
LiveCareer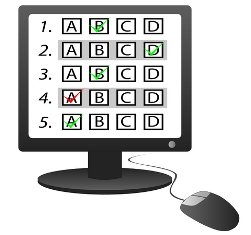 LiveCareer is an online career assessment designed to help people that are looking to change to a more fulfilling career or who are interested in learning more about their on interests and values. The career personality test consists of 100 questions, each question consisting of 3 work activities. You are required to choose the activity that you are most likely to enjoy and the activity that you are least likely to enjoy.
The LiveCareer online free career aptitude report is broken into four sections. The first two sections, interests and personality, are personalized with results from your exam. The second two sections, values and knowledge, consist of general information and questions for self-reflection. The report also breaks out your highest and lowest scores and provides an explanation of the impact that these scores could have on your career decisions.
The main career assessment offered by LiveCareer is free although you do have the option to upgrade your report for a fee. There are two options for upgrade, a Premium Report for $24.95 or a Deluxe Report for $39.95. The site is able to offer the free career interest tests because they rely heavily on advertisements throughout the assessment and report. If you don't wish to opt in on the advertisers' offers, you will need to click "no thanks" or "skip this".
LiveCareer also offers several other free career aptitude tests. They offer a Resume Test, a Start A Business Test, a Career Satisfaction Test, and an Education Test. You are given the opportunity to take any of these assessments at the end of your report. A link to your report will also be emailed to you.
Click Here To Take the LiveCareer Free Career Placement Test
---
Want to learn more about Free Career Interest Tests?
If you would like to learn about other types of Free Career Aptitude Tests and Career and Personality Assessments,
click here to return to the Career Assessment Home Page.
---
If you would like to go back to the Home Page, then click here . . .
---